Inside the Soul of One of the Modern-Day World's Most Celebrated Philanthropic Artists and Creator of the World's Largest Painting – Exclusive Interview with Sacha Jafri
By Nadia Warrayat The more damaged the soul, the more I want to connect, because the more I feel I can learn from them, and the more I'm inspired to keep painting. I think there's an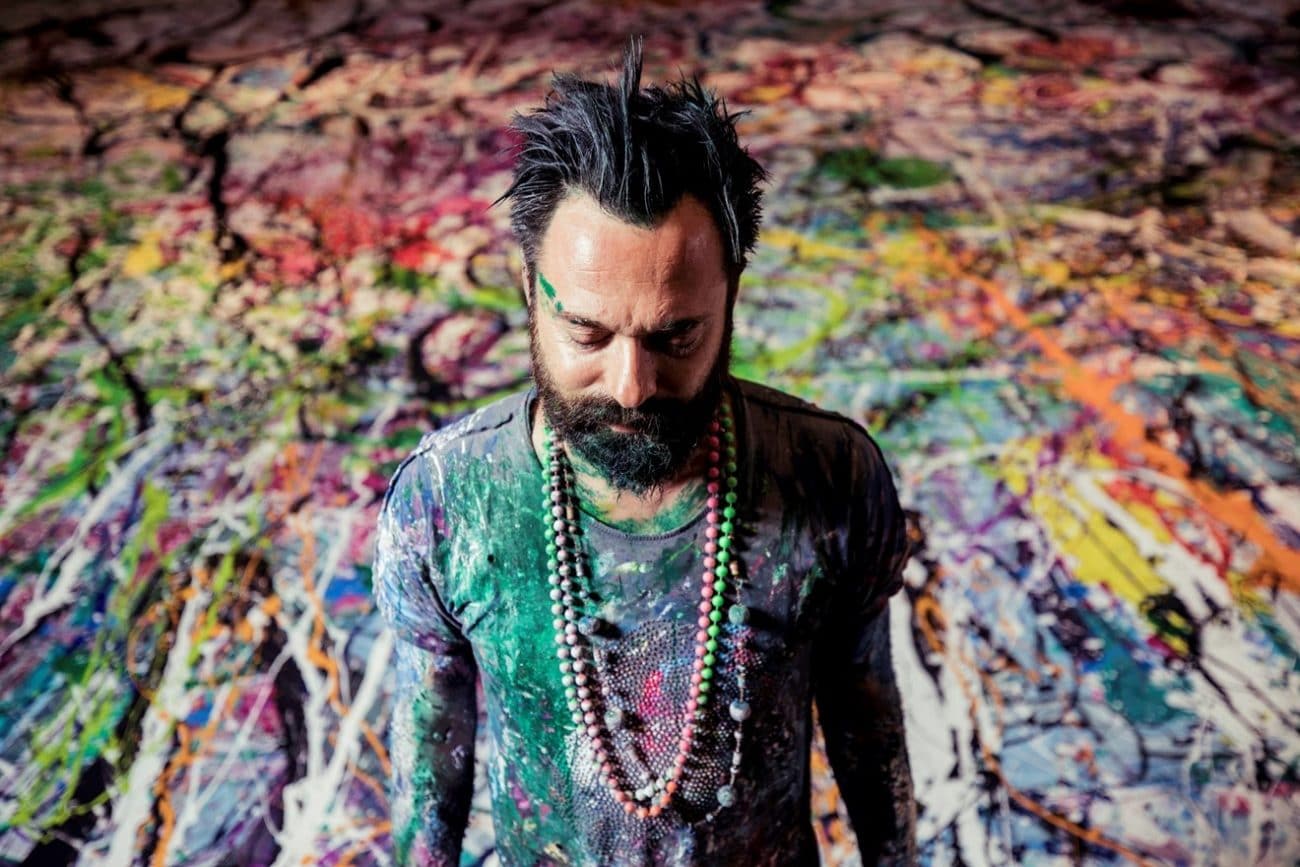 By Nadia Warrayat
The more damaged the soul, the more I want to connect, because the more I feel I can learn from them, and the more I'm inspired to keep painting. I think there's an exchange there, and it leads me to want to feed back into the soul of the earth – Sacha Jafri
I consider myself fortunate to have seen Sacha's 17,000 square feet painting he worked on for seventeen hours a day, over a period of seven months in the ballroom of the Palm Dubai's Atlantis resort. Sacha will be the first artist to speak to the UN summit on the 'Humanity Inspired' largest canvas painting. He impressively engaged over 2.5 billion people with this project across 171 countries, according to google analytics. And that leaves me wondering if one man can paint for seventeen hours a day, over the period of seven months, and can connect over 2.5 billion people on his own without paying any of his Public Relations team or supporters, what can the 7 billion people of the world do if they united?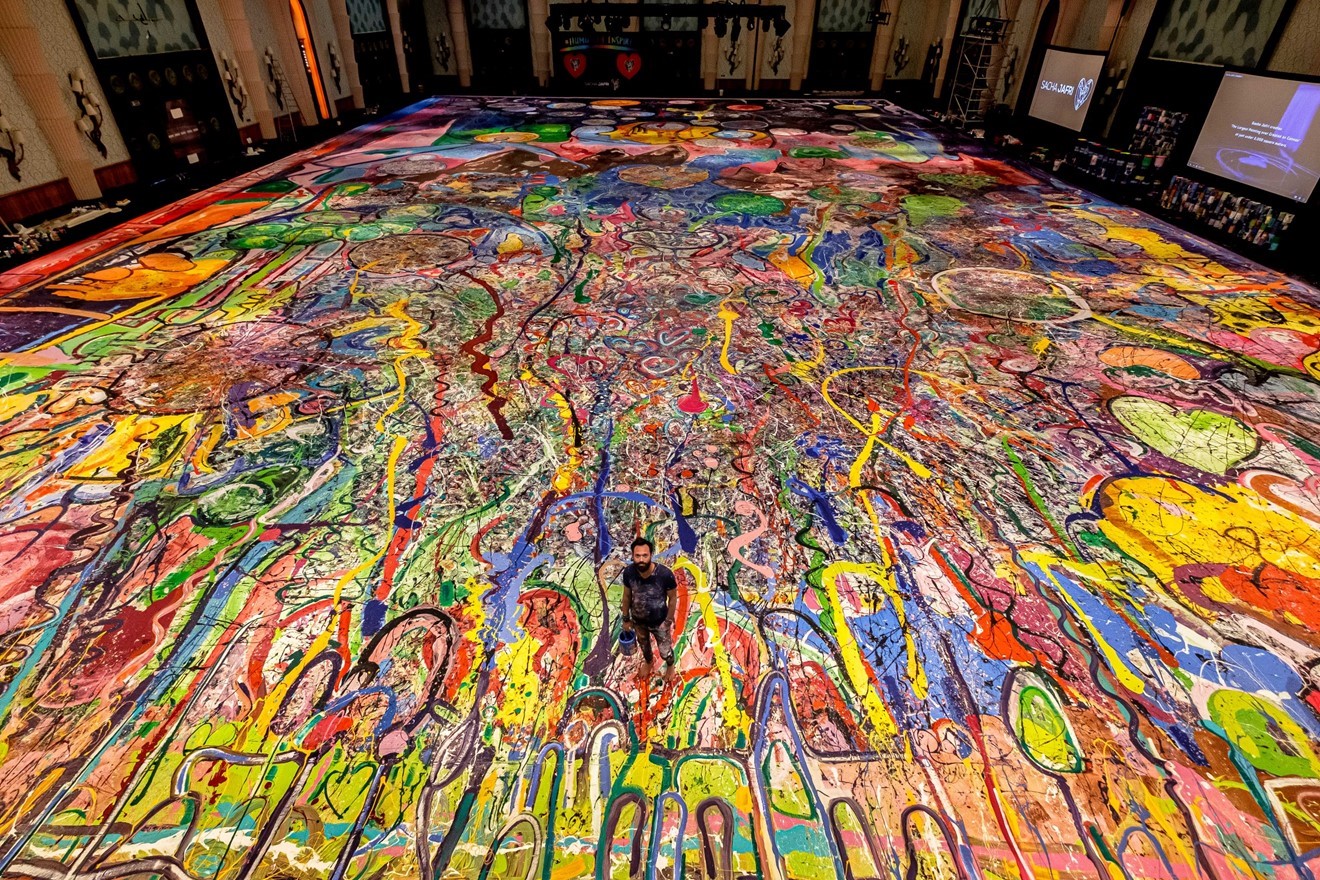 'Humanity Inspired' has gone down in the books of history as the largest art canvas painting to ever be created by a single artist, described as 'The modern-day Sistine Chapel, being the largest social artistic and philanthropic project in history. Moreover, it will change the lives of millions of children around the globe. How does it feel to having created it?
It's not about being the biggest or the most recognized; it's the depth of emotion from the inner most core of my soul travelling through my hands to create a masterpiece that will save so many children around the globe.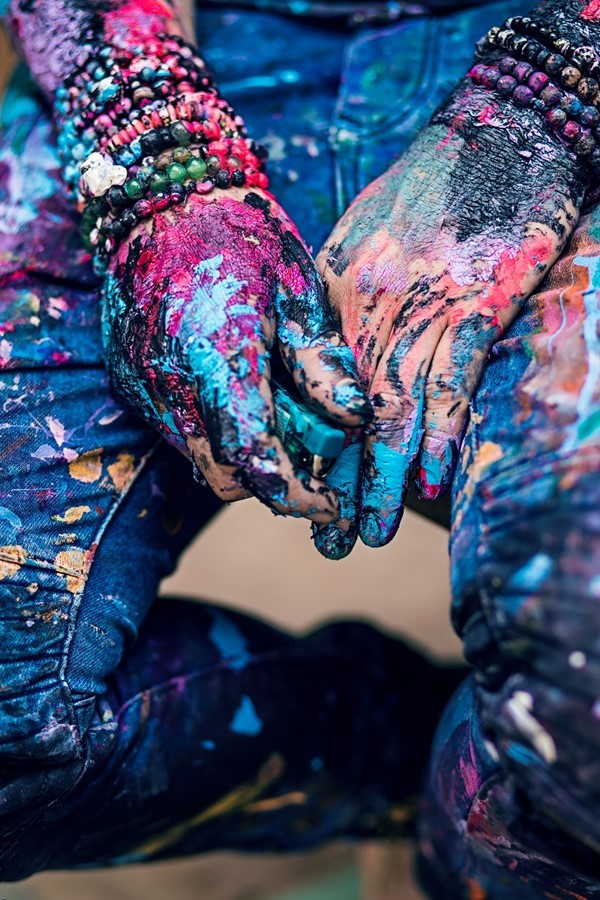 I took off my sandals and walked through the entire journey of humanity. It felt like I was walking on a wave with a shift in energy from one point to the other. I even climbed a height of over 4 meters above the ground and saw the soul of the earth in this magnificent artwork. In the painting, you see nature, the tree of life, people, hearts, the moon, the cosmos, the sun, an angel, a child and its parents, in what looks like an overall spirit of the purity of a child. You'll see the earth's crust rubbing together, and all that energy bubbling to create the mountains.
A father is painted on the far left of the upper side of the canvas with his child, and is met by a yellow angel who embraces the child and carries it into the solar system to make its dream come true. The painting is all about the love and nurturing care of the mother, the guidance and protection of the father, enabling the child to grow its wings, feel safe and loved, and that becomes the story from the beginning till the end – The Journey of Humanity.
They say the best artists suffered, was there any of that in your childhood or life?
I've been painting since I was four-years old, but my name wasn't in the spotlight until I was 20-years old. I suffered from extreme dyslexia and was constantly bullied as a child. My only outlet and expression was art. I studied in an art school in Eton at the age of thirteen, but I was lost and academically falling behind and I felt like I just didn't belong in this world. So one day the head master summoned my parents and said that I couldn't cope with my studies. The official recognition of my cognitive skills at school started my journey two weeks later, when they came up with this idea that changed my life. They built a porter cabin next to the art school and granted me special permission to paint in there. It was equipped with canvas and paint and brushes, and they gave me the keys to the porter cabin with instructions that I had to be there everyday at 7.30 in the morning or else the keys would be taken away. I used to paint till 3 or 4 in the wee hours of the morning, and from there my journey began.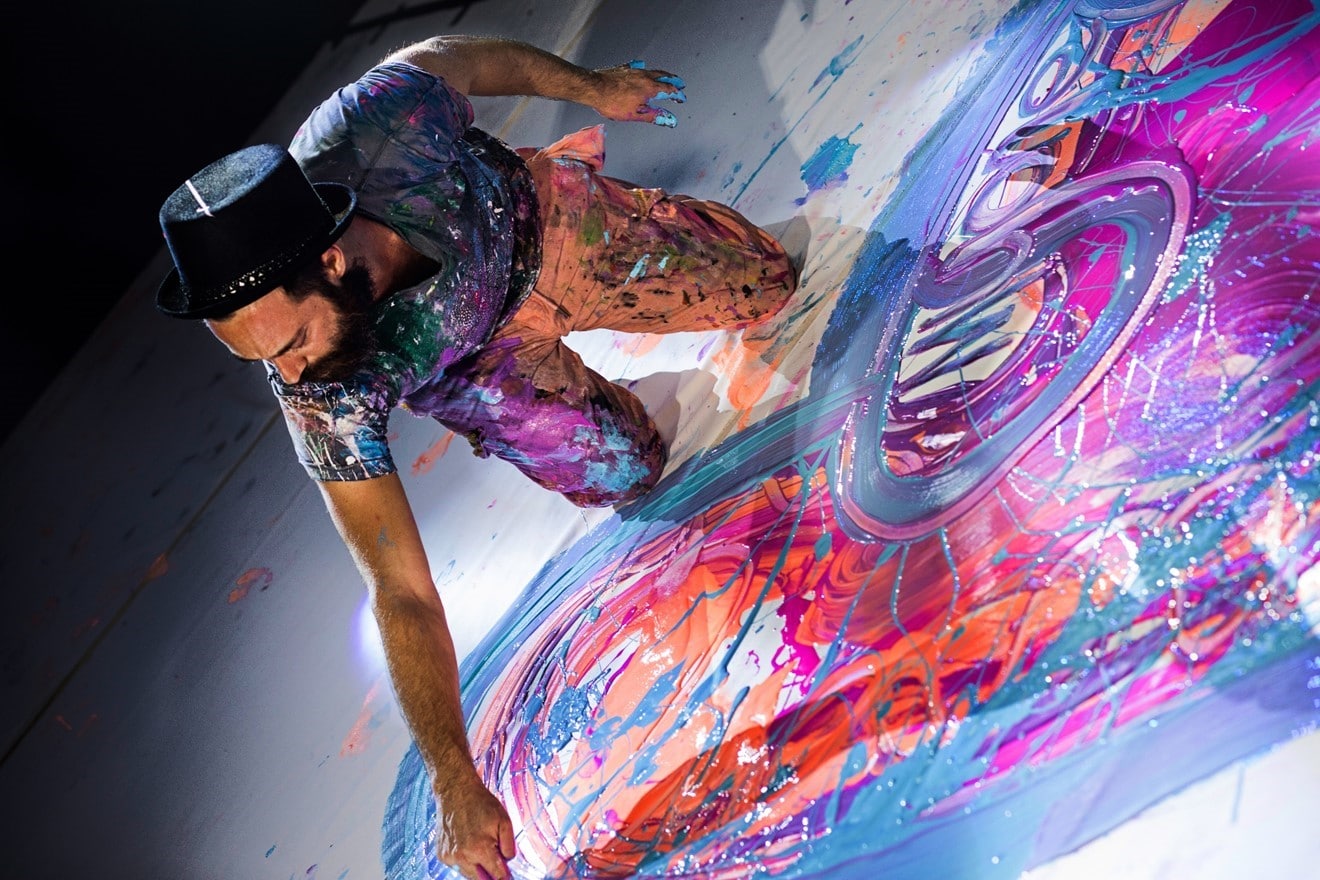 I sense there was an inner child guiding you through each and every one of the 300 layers of paint?
The greatest gift we are ever given is our childhood. I always remind my little 5-year-old about it. I believe we should as adults keep the child within us forever because the child is the magic and purity, the link to the soul of the earth and that's why I probably do so much work for orphan refugees. It's not because I'm a good guy but it's because they give me more than I could ever give them.
I believe as an artist you should focus on living a life of grace, and that means treating everyone the same, with the same empathy and respect. Whether it's the king of the country, or the guy who cleans the streets, we are one soul, one planet. We should concentrate on living with grace as artists and every now and then something beautiful will come out that has poignancy because it is being touched with the soul. Rather than focusing on ourselves and on how much we make, I think we should focus on the intentions of this world and leave a legacy of hope and encouragement. It's in the intention of what you do that really matters, and hopefully this painting has the purest of intentions.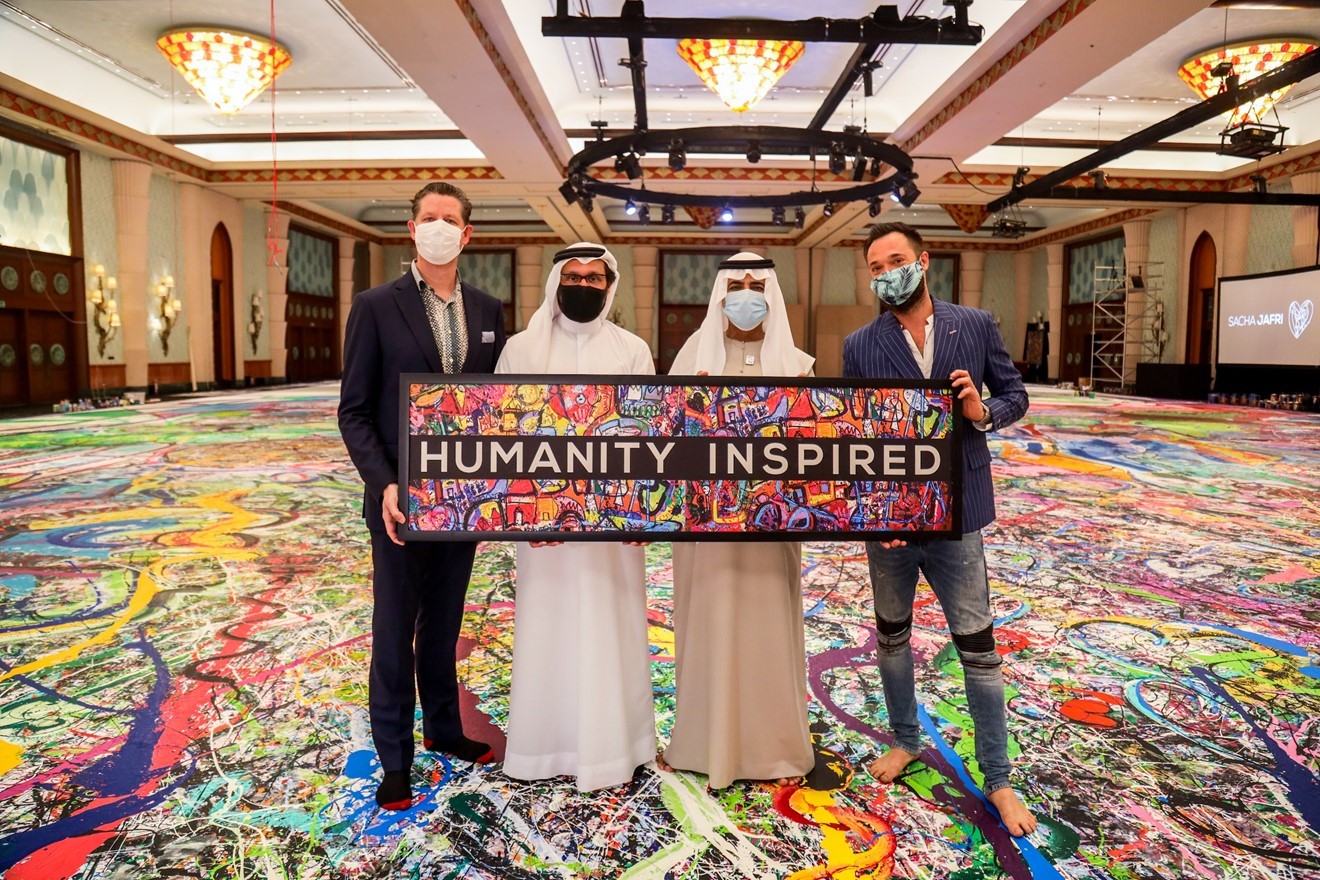 What sparked the idea of creating this painting?
I have always been painting about humanity, but right after COVID hit, I sensed we were headed towards a path far worse than its presence. But as tragic as the dark side of Corona was, it ironically on the flip side, was our savior. Until COVID hit, I felt we were so disconnected from the soul of the earth and that the world had become static as we emitted an energy filled with agendas, tasks and politics. When COVID hit, the static left for the first time in our history. Our world was filled with silence, and I felt it needed to be heard and that is how I started painting this theme. I wanted to create a project that would change the lives of children globally. If you learn about children in the slums of India, there are two million dying every week of poverty and malnutrition, and I felt I wanted to create a painting that could show us how we can reconnect, while also inspire others to go on a journey of change.
How does a painting come to life? Do you get inspiration from any other source?
I paint from the subconscious when I'm in a complete trance. When I was painting, they found that my brain waves were in theta. Basically that's a deep state of hypnosis that people also experience when they meditate. It's a place of surrender, and so was Beethoven in theta when he composed music. What I do is go into a deep meditative state to the point where you could have a thousand people in here playing trumpets and my eyes wouldn't even flicker. The way it happens is, I play a 3 minutes and 59 seconds song repeatedly for hours – it's from the soundtrack of the movie, 'The Good Lie', and it's called growing up. It's a true story about a Texan lady that saves refugees and by the end of the song I'm in a trance. Then I start to paint, and this painting was made while listening to this song for 7 months, 20 hours a day and a total of 3000 hours of painting.
I completely have no clue what I'm doing when I paint. I just feel pure emotion and energy, color and light and dark. I see a matrix of energy and emotions. My brain has to project the image upright, as I'm not aware of it, and all I'm seeing is this matrix of color and shape. It's like a jigsaw puzzle where I know each line and mark to make that jigsaw fit together, where it becomes complete.
How do you define an ego?
When I'm in this deep meditative state, I disconnect the ego in me. If the ego is involved in any form of creation with me, I can't create. You can't engage ego in your work because then you empower the ego to project your being. Eradicating the ego is not something we can really do, but maybe we can be more conscious of what the ego really is, how not to engage with it the way we are, and to disengage the ego so that we can project something more soulful. The soul and the ego have to exist independently.
So basically the ego is the connection to the eye; it's your identity in a sense, but if you engage with the ego and allow it to drive you then you bring in agenda and false projections of yourself. In my paintings, I disengage the ego and the brain, and if you can disengage the brain and engage the subconscious (your inner child, magic, inner spirit) then beautiful things can happen because your tapping into something greater than yourself, into a universal consciousness.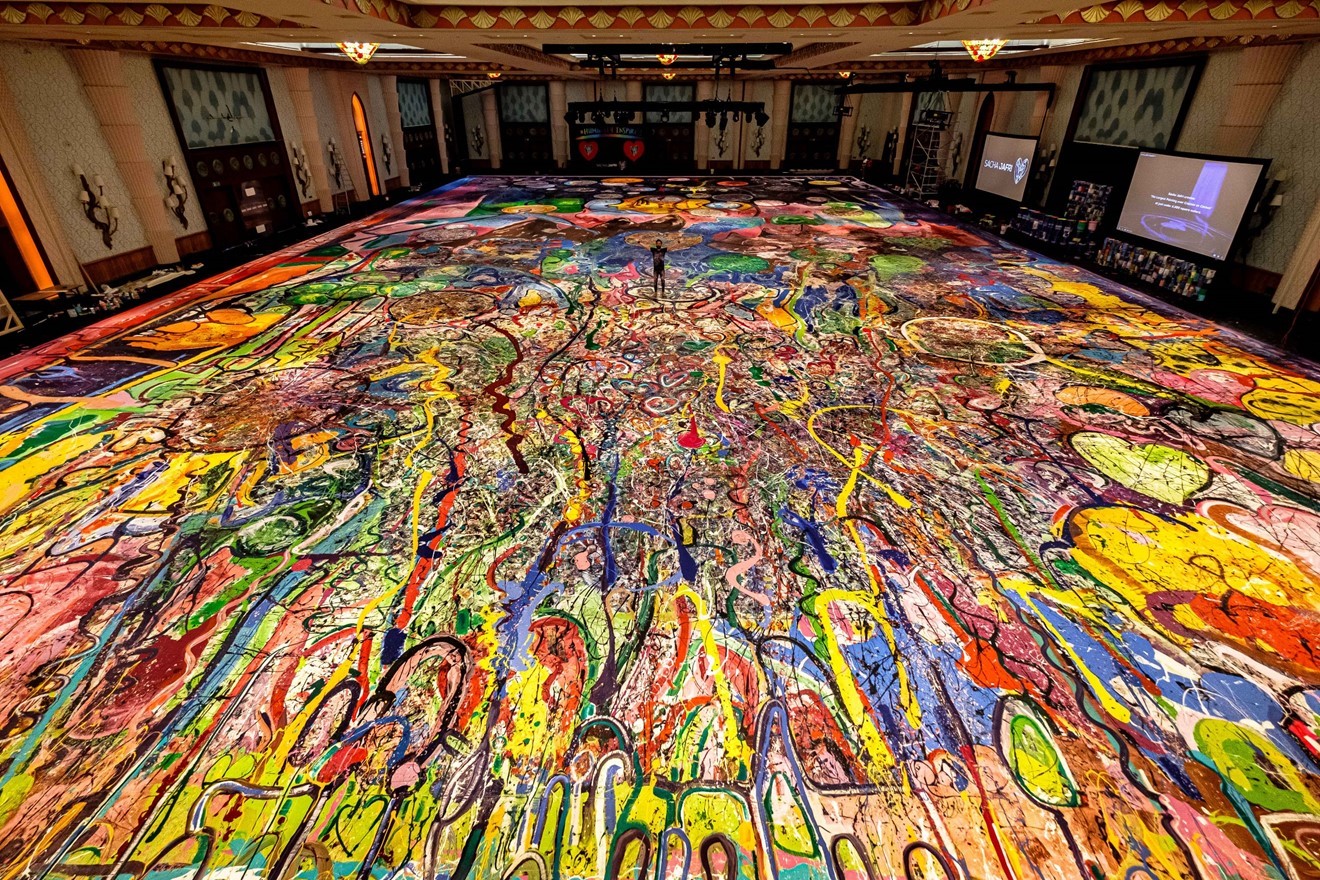 This artwork is enormous and is set to break a world record – what will happen to it?
'The Journey of Humanity' will be split and framed into 70 panels and will then auctioned into what is expected to be the largest online auction in history across 140 countries across the world. When this artwork is exhibited, it's going to be displayed in a tour of the UAE including a projection onto the Burj Khalifa and showcased in the Louvre Abu Dhabi, potentially. It has to work as 70 individual panels that will be auctioned to raise over $30 million. The online auction is set to be the largest online auction in history, and whoever owns a panel owns a piece of history and humanity. We tapped into the biggest art collector philanthropists in the world, and they have pledged to support 'Humanity Inspired'. The funds collected goes to the four trusted charity partners – UNICEF, UNESCO, Global Gift Foundation and Dubai Cares.
How will the funds raised by this project alleviate suffering around the world?
My painting depicts how a child should feel loved, safe, and brave. Bravery comes from only one place. While people think that bravery is climbing a tree, well that's not brave, it's exhilaration and adventure. I believe bravery comes from education. It needs to be the foundation that will make the children of the world feel safe, loved, and brave. From this project, $3 billion will be raised by connecting the six UN agencies, the UN secretary general, six world leaders, governments, his excellency Tariq AlGurg who runs Dubai Care, IMF and World Bank. By working with the ministries of education for the last seven months, we sent a call out to the children of the world to send their art work, and we received thousands of artworks from different countries which we put up into the portals.
We are building 150,000 educational platforms connected with laptops, desktops and supporting internet, and have connected them to medical centers around the world, refugee camps and townships of Africa, the Middle East, Eastern Europe and slums of Pakistan and India. Four-year old's are walking fifty kilometers per day to school, and on the way some collapse or even attacked en route. It's not a sustainable arrangement and these educational platforms will help keep our children safe.
'Humanity Inspired' stems from your concern towards children's wellbeing, tell us more about your empathy towards them?
The Journey of Humanity is to take children to a better world through the hearts, minds, and souls of our children. I want to connect them all into one project, but I want to do it through only children as they have that purity. What I found out is you cannot connect the world through adults as they have agendas, and discrimination and judgment. But if you take five children in one location, they will only ask two questions, "are you kind, would you play with me." They don't look at you for your status, don't understand religion, and see no separation.
Who were your greatest influencers that inspired you to be who you are today?
I raised $40 million for various charities, mainly orphan refugees, but I worked very closely with my friends, Prince William and Nelson Mandela. I am inspired more by humanitarians than by other artists. Nelson Mandela taught me three things: from the darkness comes light; I am the master of my fate;  I am the captain of my soul.
My journey into painting was started by George Clooney when he asked me to go out and create a painting on the spirit of Darfour. He was launching the movie 'Sand and Sorrow', and we were flying over in a helicopter when I looked down from 2000 meters above and saw the soil looking red. I was horrified when Gorge Clooney told to me it was blood. It was then that I decided to go to the 42 refugee camps of the world and create paintings and raised $12 million for the refugee kids. I worked with Prince William very closely on his 'Heads Together' campaign for mental health. I worked with Dubai Cares for a very long time, and for Global Gift Foundation where I admire the two women that founded it, Maria Bravo and Eva Longoria. My life has been about connecting philanthropists. I do what I do because it makes me feel alive and I cannot breathe without it.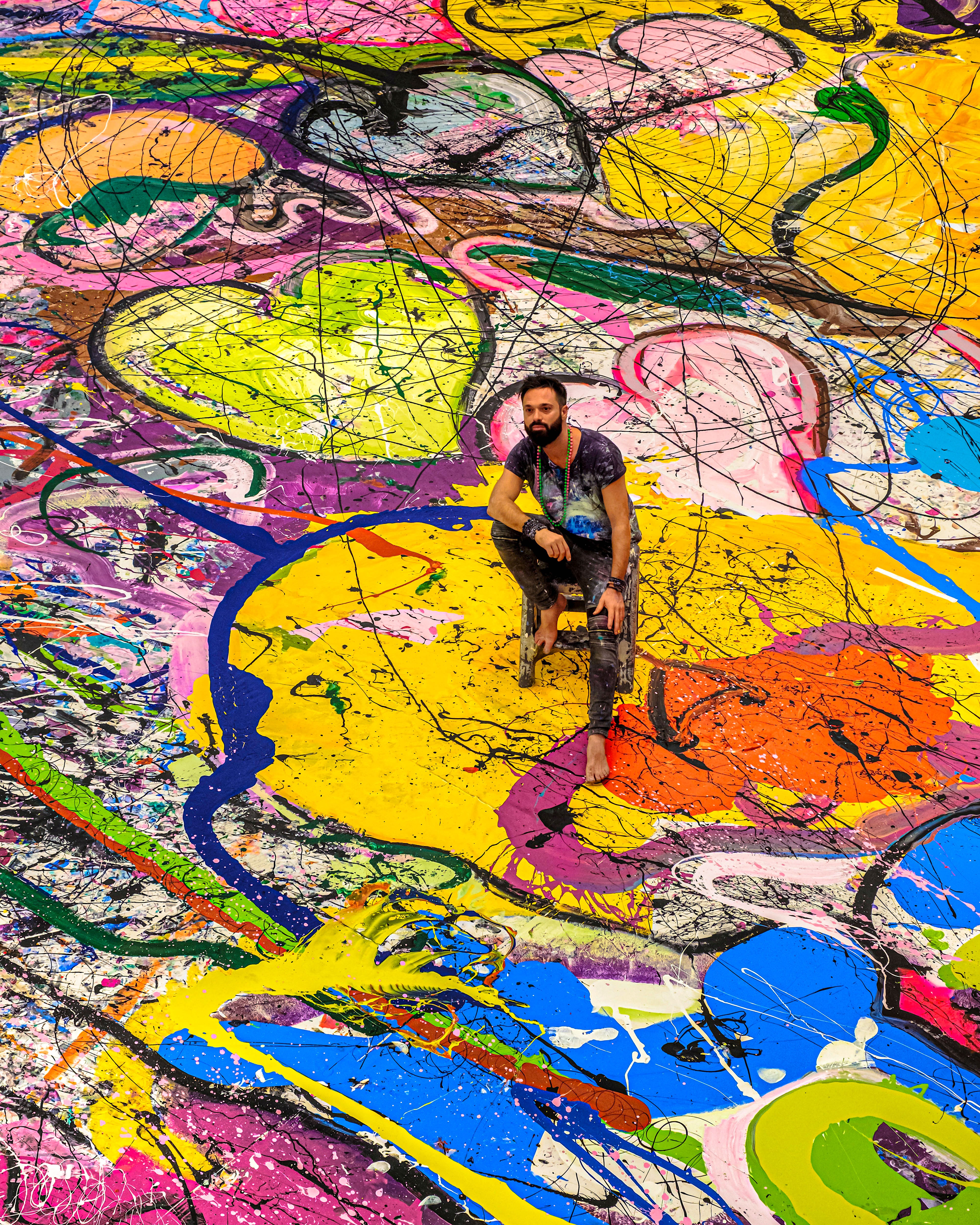 You're raising 30 million USD for children, with hundreds of celebrities  supporting the project and this is the largest art canvas painting in the world, how do you manage to not let your ego come between you and your accomplishments?
Like I said, as an artist I believe you have to live your life in grace and then only beautiful and magical things will happen. What happens is, you borrow a moment every now and then by living in the state of grace and surrender, and every now and then something magical happens. And the moment you borrow, something magical comes out of it. It's not you, you don't own it, you didn't create it. You enabled yourself to borrow the moment by living in grace and by surrendering to the beauty of our universe, linking to all the souls of the world.
But as soon as you start believing that it's you who created, as soon as you believe the hype, that's when you're engaging the ego. It has taken me twenty-two years to work this out, because as soon as you think it's you who are doing this painting, you don't get lent these moments. When you are given these moments, you give it back with gratitude and grace and then these moments get lent to you again and again. As soon as you treat people like you're above them, you don't get lent these moments. I believe that writers block and creator's block is when you're not living a life of grace, when you're not getting those borrowed moments. It's important to give these moments back by not engaging the ego and by embracing humility and recognizing it's a gift from above. Hence, it must be given back to the universe.
Sacha wants to inspire us to create and go above and beyond what our mind limit us from doing.
"I wanted to create something that would leave an imprint in the world to help us unite, and moreover, I wanted to alleviate suffering by empowering children around the globe with education."