Coniigilio All'ischitana
By Paul Estorffe Coniglio all'Ischitana is a rabbit dish originating on the island of the same name off the coast of Italy. Traditionally made from the wild rabbits which are plentiful on the island, this is a delicious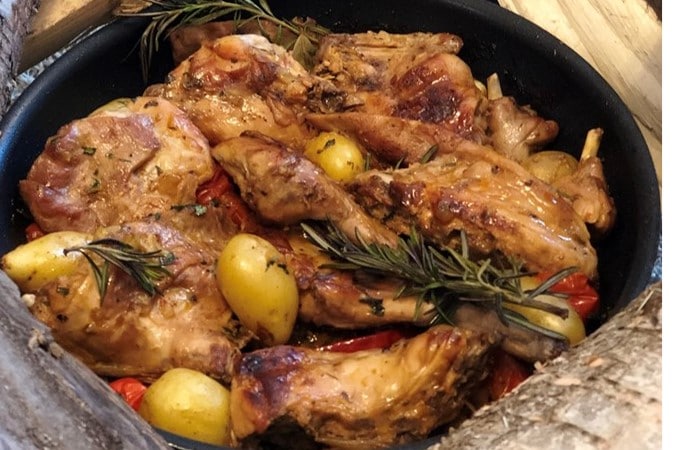 By Paul Estorffe
Coniglio all'Ischitana is a rabbit dish originating on the island of the same name off the coast of Italy. Traditionally made from the wild rabbits which are plentiful on the island, this is a delicious dish to try now that the summer heat is over. Serve with pasta, potatoes (any way you like them) or perhaps rice. A salad is a nice accompaniment too.
Ingredients:
1 rabbit cut into 8 pieces
¼ cup good quality olive oil
4 cloves garlic, peeled and chopped
1 small onion, peeled and finely diced
1 cup dry white wine (this is optional)
1 tspn each sea salt and freshly ground black pepper
500 gms red, ripe chopped tomatoes
Pinch of red pepper
A few sprigs of fresh thyme or a tsp of dried thyme
Directions:
Heat the olive oil in a large saucepan, add half the rabbit and cook for 5 mins. Add the seasoning and continue to cook for a few minutes more until the rabbit browned all over. Remove rabbit and lay on a large plate. Do the same with the remaining rabbit then remove from saucepan.
While the rabbit is on the plate, cook the garlic and onions on a low heat, stirring, for 5 minutes.
Always best to start cooking onion first otherwise you risk burning the garlic.
Add half the wine (or your preferred stock) and cook on a high heat, scraping the bottom of the pan gently to deglaze and release all the little tasty bits that are on the bottom of the pan. Cook on high heat for about 3 mins.
Add the rest of the wine (or stock) and all of the rabbit and cook on medium heat until the wine or stock has reduced to 1/3 of its original volume. This reduction intensifies the flavour.
Now add the chopped tomatoes, thyme, red pepper flakes and seasoning.
Bring it to a boil, then simmer gently for around 45 mins or until the rabbit is tender.
And you're done! Quite a straightforward dish and so very tasty