A tropical paradise awaits you – where luxury meets you half way
By Nadia Warrayat   Simah, the OZEN Life villa's private butler while escorting me to my room, gently removed his slippers. "Do I need to remove mine?" I said. He replied back swiftly "the only rule is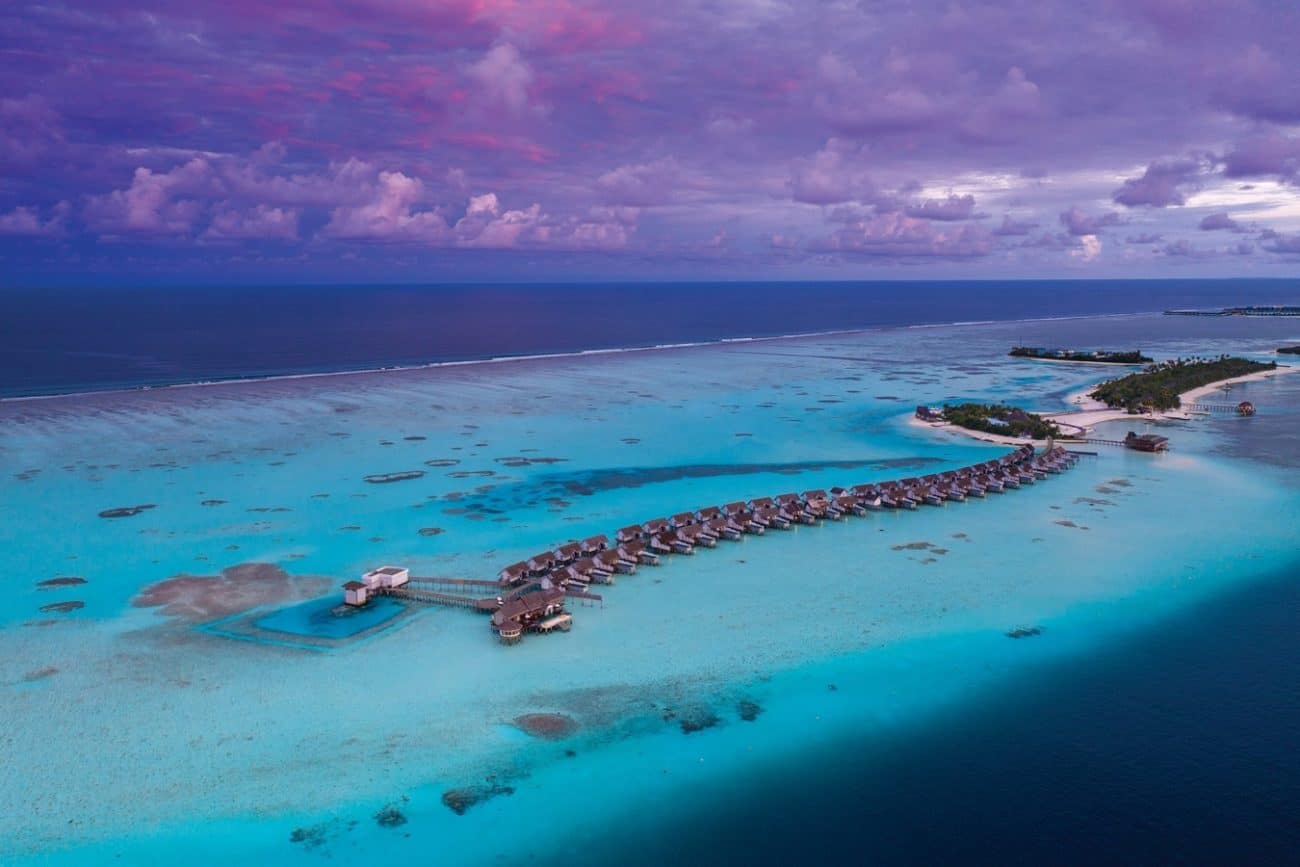 By Nadia Warrayat
Simah, the OZEN Life villa's private butler while escorting me to my room, gently removed his slippers. "Do I need to remove mine?" I said. He replied back swiftly "the only rule is be happy" I felt as light as a feather while the tranquil turquoise waters enveloped in peaceful energy magnetized my eyes. I was on a higher wavelength of immersion in the state of tranquility, that I haven't experienced on any other island I have visited in the past.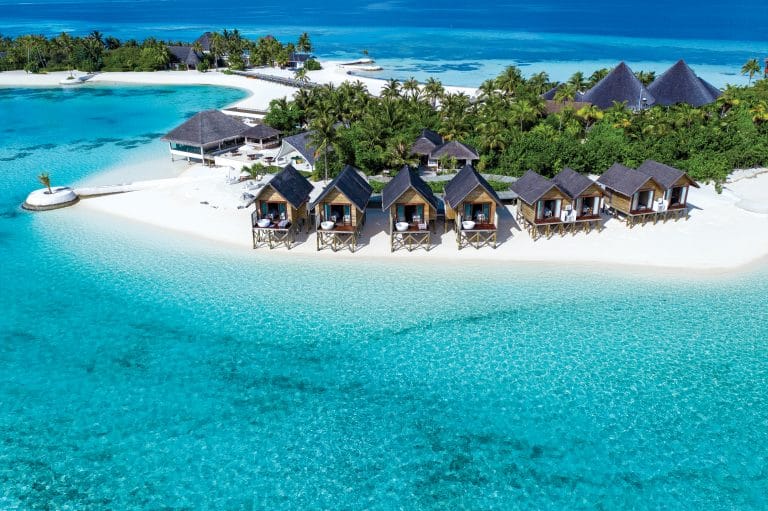 I left behind the glitzy sunny city of Dubai on a serendipitous trip to the four-hundred-year-old Maldivian islandic state. I was greeted along with the visitors of Maadhoo island (meaning an abundance of greenery) with a garland made of a palm leaf, weighing heavier on the scale of beauty, than a heavy weight carat ruby around the neck. A handmade Maldivian instrument made of wood and cow skin, known as boduberu made drumming sounds of welcome to your home away from home.
I hopped on a buggy and before my eyes, I was glued to the picturesque scene I saw when I passed the native Maldivian perfectly imperfect homegrown island trees. The green scene was weaved with branches twisted and intertwined forming a canopy with many other tree Familia species. As if made through a genetic infusion of the Japanese bonsai with the islandic Palm trees, to create a vector transfer of eclectic beauty, in a tree tunnel over a distance of at least a quarter of a mile.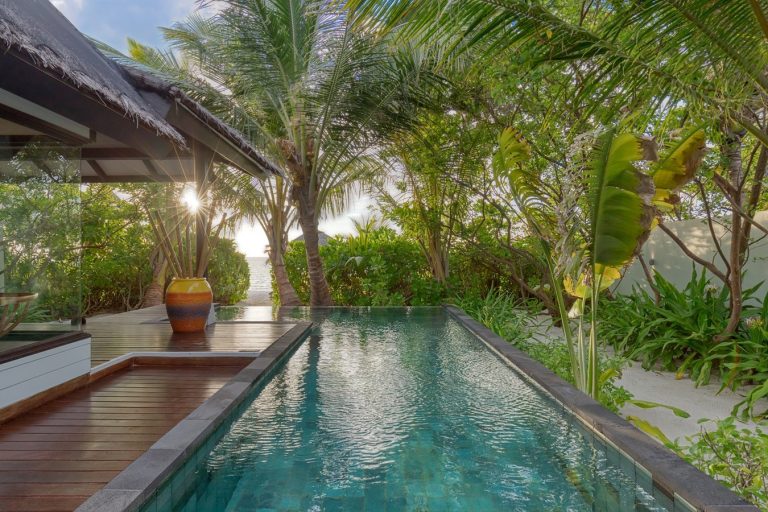 The buggy stopped at villa 404 through a powdery pristine white sand pathway that looked like powdered sugar and flour, leading to the coconut timber door of my private beach facing villa, known as the earth villa. Why it's named earth villa was not a derivative of any specific reason, it was just a name given to this type of design. Earth villas come in two, one with a pool and the other without. However, they all have the same beach facing amenity. While all 95 villas housing a maximum capacity of 240 island-goers, are geared towards a romanticized time, some are designed for solo traveler's, fit an entire family and some are for honeymooner's privacy in villas built above the crystal-clear waters.
The interior design of where I stayed, is where luxury meets you halfway. The brand OZEN is rated as 5 stars by the Maldivian tourism authority, and it is indeed so because this tucked away captivating beauty is made with a true understanding of balance, between extracting from nature which design elements to incorporate in the construction of this resort, which was established in 2016, and which man-made desirable luxuries to select.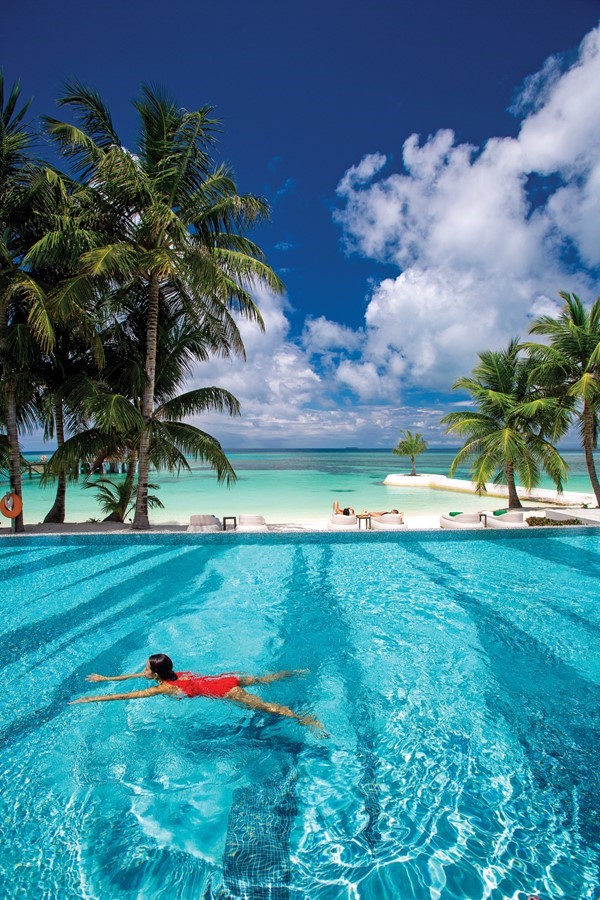 Oceanic sand is used instead of marbles and asphalt to pave footsteps and decorate the visuals you stomp on with your feet. The elements of nature such as the coconut and many exotic tree species are weaved into an umbrella like passageway in front of each villa having been purposely left haphazardly manicured in natures flawless symmetries, crowning the man-made scene of a cozy veranda overlooking the baby blue waters.
On my second night on the island after having had a deep sleep on the thousand count feathery bed, my biological clock woke up in the wee hours of the morning, so I sat on the veranda. It was written on my cards that I lock myself out of the room, which led to me walking the entire island when the solar powered electric lights were all off, to observe the switch above light up the universe. It was as if I had a single ticket to attend a free art gallery, making me fall so deeply in love with the greatest artist – the creator of the deep skies ornamenting it with glittering stars around the silver crescent moon.
As I was walking the beach I repeatedly ran into the most adorable unforgettable creatures, like the thumb sized crab spreading its tentacles then shying away back into its shell.  Lizards always disappeared before I could spot them again. After swimming in the shallow clear waters, I would go back to get sun-drenched and even though the sounds of nature are soothing, I found myself jamming to music using the Bluetooth speakers in the room to express my elation in celebration of a utopic state of mind.
And above all the staff are kind natured and are far from having the "yes mam – yes sir" service industry robotic etiquette. They will go out of their way to treat you as if you were their only guest and most often than not, a conversation is sparked leading to the establishment of an acquaintanceship.
A hammock around two sister palm trees is available overlooking the waters where you can lay over to witness the majestic views of the universal sun when it begins to share its divine worship space with the moon. I was lost in its magnificent beauty as it slowly disappeared, illuminating the skies in hues of red, yellow, and a shade of purple. And that's where I met two beautiful women that have a type of friendship I've never come across in my life. Yasmine, a resident of Dubai came a week prior to her mastectomy breast cancer surgery along with her doctor Nazia, whom developed a friendship with her over her chemotherapy treatment. " When I asked her if she'd been to other resorts in the Maldives, she explained she's been to quite a few, but nothing compared to OZEN. "At OZEN Life Maadhoo there's nothing to complain about, it's pure bliss. And what else can I ask for besides an abundance of kindness, gourmet food and peace."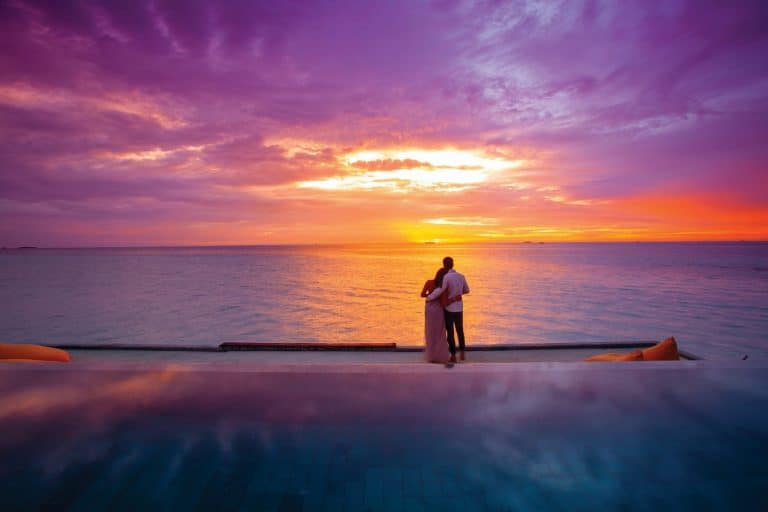 If you're on a calorie watch regimen, you will owe it to yourself to take a break when at OZEN. While you can balance between healthy mouthwatering options, you also have unlimited access to indulge in five main restaurants offering a wide variety of specialty gourmet food. I was taken to an underground restaurant six meters beneath the Indian ocean and was sat in front of a window facing the sea world view. I was served buttered lobster tail, cured salmon, caviar, among other delicacies. While all dishes lasted in my memory for their felicitous combination of flavors, the butternut squash soup exploding with flavors hasn't escaped my taste bud memories. Even though I was told in the past that I have mastered this dish, until I tried it at OZEN, I felt compelled to know the secret behind the gastronomic taste. The chef was so happy to share his secret ingredients and cooking method.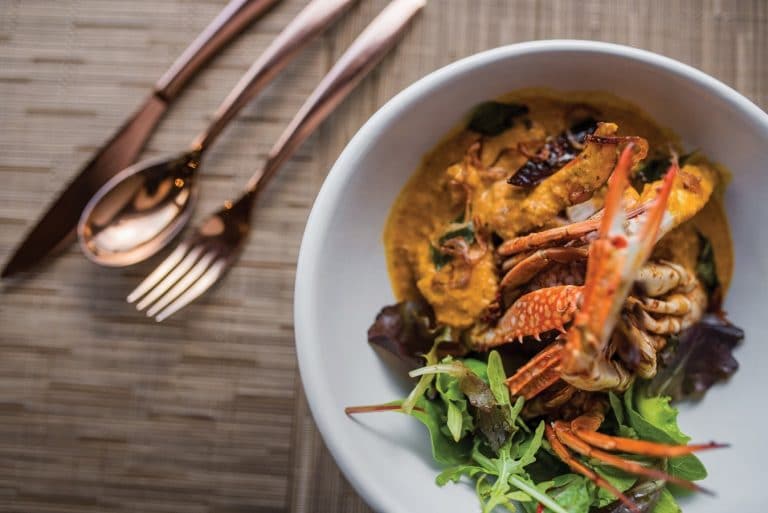 The island has much to offer in entertainment of the sea life, through scuba diving and a semi submarine boat that went deep into the coral life, I saw a gigantic jelly fish, an Octopus and a ton of colorful species I am not acquainted with their names. I went for a deep tissue massage combined with a Maldivian sand massage at the OZEN spa in a villa above the waters, where I have experienced one of the most tension release in my muscular system.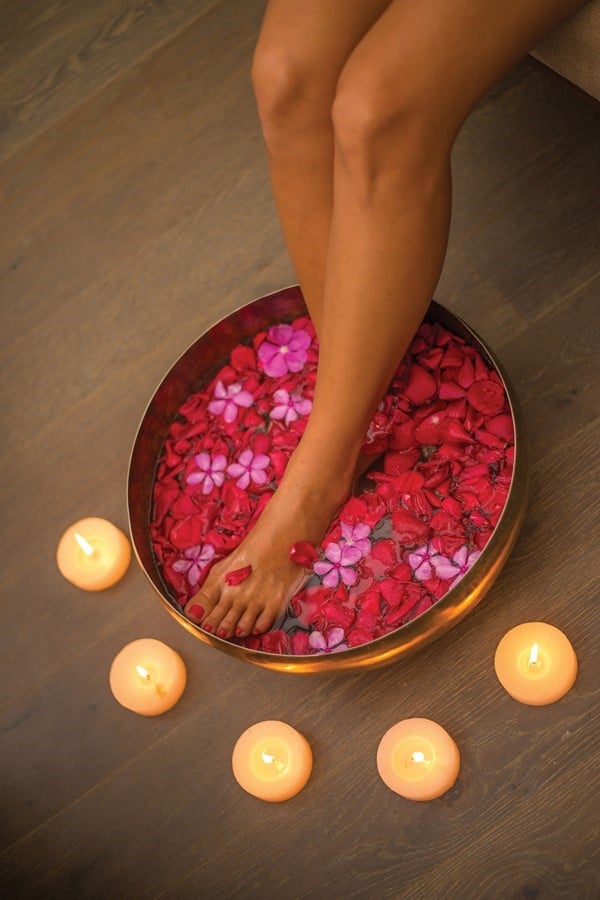 And when I asked the Chief Operating Officer Stephane, on what distinguishes OZEN Life Maadhoo from the other 162 resorts in the Maldives, he explained that all visitors are treated equally and are offered the same inclusivity package, where no one has to pay a single bill through their stay, unless they ordered an additional spa item. "Transportation to and from the resort, unlimited access to all restaurant and bars, a spa treatment every four days, motor water sports activities including fishing and scuba diving, are all included in the room's rate."
As the trip came to an end, the sweetest gift was delivered by staff that baked a cake with a customized – Bon Voyage – message. We exchanged wishes of happiness for each other and I learned to say farewell "tata" in Dhivehi, the Maldivian native language.
With deep gratitude and owing to the OZEN Life Maadhoo in the Maldivian Maadhoo island, my torch of freedom was lit, where being part of a country was not confined to a geographical landscape. My state was the skies above, its capital was the vast ocean, my flag was the crescent moon by night and the sun by day. My people were all the genuine ones I came in contact with, along with the extended animal kingdom and the colorful sea life that coexist in harmony with one another and Mother Earth.